Welcome! This is my very first blog. I've considered doing this for a long time, but now is as good as any a time. I love fashion and style, and I view an outfit as if I were viewing a piece of art.


I am a political science major in a New York college. Fashion has always been a fun hobby for me.


I've been trying to teach myself to wear more accessories,such as necklaces,earrings, and bracelets, with my clothes.


I remember buying this shirt a few years ago after falling in love with the stitching. I've received so many compliments about this shirt, and I think it's due to the fact that it can be dressed up or dressed down quite easily. I've worn it to interviews with grey or black dress pants. I've also worn it with dark jeans and heels, or light jeans and sandals.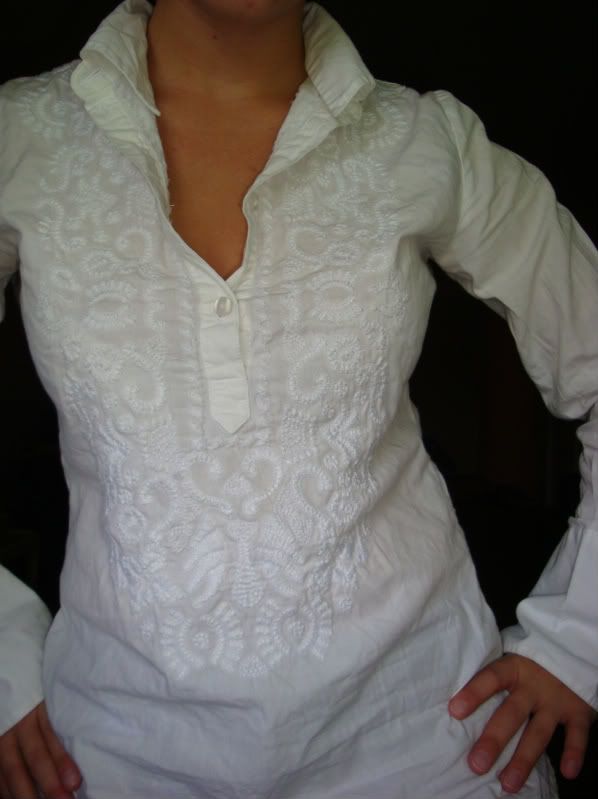 I love Kate Spade. In this month's Galmour issue with Gewn Stefani on the cover, there is a coupon on the inside for 25% off a Kate Spade handbag. Hooray for coupons! So I went to KateSpade.com to look at the handbags, but was consequently distracted by these lovelies...

So simple, so beautiful, and so classic. These black platform pumps are made from woven grosgrain, which is typically made from pure silk, and are $300. Plus, they come my size, which is a 5, so kudos for that.